Monday night's home game against Huddersfield at the London Stadium is also Slaven Bilic's 49th birthday.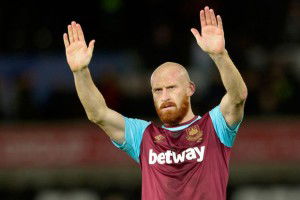 "Birthday or not everyone at the club would like to get the boss three points," says James Collins. "He's been under tremendous pressure. It's crazy in football that the managers get put under so much pressure when sometimes really the players need to look at themselves.
"We know we haven't performed and the manager has done the best he can. I feel like we owe the gaffer a performance and hopefully we can do that on Monday."
Speaking about Danny Gabbidon's comments that Bilic looked like he had already thrown in the towell.
"I don't think there's truth in that," Ginge said. "All I can say is all the lads here at West Ham are completely behind the boss.
"We've been trying, maybe not as well as we should have, but on Monday we're going to go out with our hearts on our sleeves and hopefully get three points for him. He takes it all on his shoulders but the players need to look at ourselves and really put in a performance for him.
"I wouldn't say there is tension. We know we've got to perform better than we have done.  If you go into games cowering then you're not going to perform.
"I've been in this position before, I've been at the club a long time, and we've got to perform. We're all good players who are here for a reason. You don't turn into a bad player in three games. We know the quality is there.
"Maybe confidence is down but a good first ten minutes on Monday night and you'll see a different West Ham."