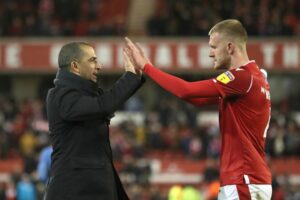 Some football players could go on strike depending on what football authorities decide as the best way forward,
One previous report by the Daily Mirror claims that players from all levels of the game oppose the idea playing behind closed and have voiced their concerns. Players are said to fear for their safety if they take to the pitch despite government guidance over social distancing, and are fearful that they could pass on the virus to their loved ones.
They are also worried about the extra strain that would be placed on emergency services if football was to resume, the report adds, and don't want loyal supporters to be 'locked out of stadiums'.The stars could refuse to play and have voiced their thoughts to the PFA, with chief executive Gordon Taylor saying: 'Players do have concerns and understandably so. It would not be our preferred option but everything has to be considered at the moment.'
However, one Championship player has a different view and has threatened to strike if the season is declared null and void.
Nottingham Forest defender Joe Worrall says completing the Championship season is "non-negotiable", however long it takes.
"It's non-negotiable, you can't null and void it," he told the BBC.
"If they did null and void the season, I'd be on strike, 100 percent!
"We're in the play-offs, for goodness sake. We're doing so well.
"There will be teams at the bottom of the league, who are 16th or 17th and trying to stay up.
"They'd probably be happy to say, 'yep, null and void, let's have a big, long summer'.