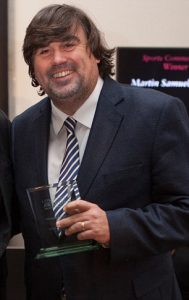 Regular readers of this site will know that we have quoted pieces from the Daily Mail's Martin Samuel before because by and large the guy nails issues at the stroke of a pen – or rap of a keynoard.
And at a time when football is in a perilous state and looking for cuts in a bid to make ends meet, he has weighed in with an article which has to be read by all those who claim to have the good of the game at heart.
He appears to be suggesting that whilst calls from the PFA and players to give anything from wage cuts to the NHS or charity, the clubs they belong to – as demonstrated by Barcelona's players, could do with the first call.
His piece  can be found at fhttps://www.dailymail.co.uk/sport/football/article-8189817/MARTIN-SAMUEL-time-players-wake-football-shop-big-bills-pay.html.
Among his observations are that each club now has to address the playing staff and explain why they are asking for wage reductions — or deferrals if the 2019-20 season finishes in front of crowds.
O the Premier League has as good as abandoned them to this task, saying each contract is between the employer and employee.
O Gordon Taylor's last stand as PFA chief executive threatens football's good name and that the sport could still be paying for its tarnished reaction a decade from now, as the public turns its back. They do not care for the politicised squabble this has become.
He claims that their Saturday meeting, in which representatives from all 20 clubs could listen but only three — Mark Noble of West Ham, Troy Deeney of Watford and Kevin De Bruyne of Manchester City — could speak, was to consider the prospect of a 30 per cent wage cut and made little progress.
He says: 'The presumption here is that all clubs are financially isolated against this crisis.
They are not. Some have a finite date on which, unless football resumes, the money runs out. Burnley's is in August. And Burnley is nobody's idea of a spendthrift, poorly-governed club. Yes, it could be argued that Michael Garlick, Burnley's majority owner, has wealth of £50m through his project workforce management company Michael Bailey Associates. So let him cover it. The truth? He probably is already. He is covering issues in his other companies, and issues at Burnley. And he could cover Burnley until his money ran out. '
And in more general terms he adds: ,The bottom line premise that appears to be ignored here is that football, right now, is an empty shop. It has no product. It has nothing to sell. Using the logic that to defer or cut salaries harms the NHS, then really this is all the fault of Sky, BT Sport and the other broadcasters. Why are they expecting refunds for a product that failed to arrive? Don't they know their money was what enabled the clubs to pay the players their money, and for them to then pay tax to aid the NHS.
And we season ticket holders don't escape with Samuel adding: "It is unfair to expect a rebate if matches are not played. Why? Cos nurses, as Lily Allen might say. And it would make as much sense. If football does not reconvene — and let's be honest, there's no prospect of that right now — money will be owed to broadcasters, to fans, to corporate investors and they won't want it returned in instalments.
Eight Premier League teams have five home games left, a 26.3 per cent refund to season-ticket holders, while Manchester City and Aston Villa have six left, which works out as 31.5 per cent. And if you were one of those fans, you would want the cash back now, yes? Not spread over five years.
So if the players are demanding to know where the money is going before signing up, one imagines most chief executives will be happy to inform. Here's the empty incomings column; now here's the broadcast rebate, the ticket rebate, the corporate rebate, here's your April wage, your May wage, your June wage, your — oh, dear.
And then the country and the NHS will be in more trouble, because the other strand the PFA appear to be missing is that clubs pay taxes, too. In 2016-17, the last time it was calculated, the Premier League tax commitment was £3.3billion, of which players paid a third — and the Premier League made an additional £7.6bn contribution. That is a lot of nurses, if the game gets this wrong.
ClaretandHugh says: We have to admit that Samuel echoes virtually everything we have felt personally for some time now. We of course want the NHS to be funded properly but that should have been done over the last ten years or more by successive governments. To have footballers, pop stars and celebs generally doing so, is not the way it works however worthy it may sound in the middle of a crisis such as this.  For us Barcelona players  showed the way forward when contributing 70 per cent of their wages to the club and extra towards those on non playing staff. If the biggest club around needs help you can bet your life away that all of ours apart maybe from a couple do to. I'm all for charity and I'm all for the NHS but when this is all over I want football clubs to have survived and I hope the players ensure they do all they can to help the clubs. There's never any point in biting the hand that feeds you. We are a West Ham site but this comment applies and is written in relation to clubs everywhere.