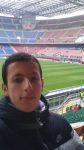 João Mario comes under the ClaretandHugh PlayerWatch spotlight today Danny Canilleri Leach reports.
23 – Receives the ball with his chest from Zabaleta, brings the ball down, turns with the ball and passes it to Noble
26 – Wins the ball off the opposition and dribbles the ball out wide with his man but the pass to Noble is deflected
29 – GOAL – Receives the ball from Noble on the edge of the area and with 1 touch lays the ball to Chicharito's feet who equalizes. 1-1.
39 – Picks up the ball from defence and dribbles forward before releasing the ball to Chicharito
39 – Cresswell whips a great ball into the box but under pressure from Bong, Mario only gets a slight touch on the ball so the shot goes wide
40 – Dribbles forward from midfield and beats a man but Duffy clears the ball as João Mario has no one to pass to
43 – Crosses in a dangerous corner but it is headed away by Duffy
45+2 – Hustles for the ball with Pröpper for at least 5 seconds but wins free kick as he is pulled down
48 – Receive the ball from Cresswell's throw in and weaves past 3 Brighton players before giving it back to Cresswell
53 – Tackles Pröpper and the ball goes to Kouyaté who plays it back to Mario but loses the ball as he turns and dribbles forward
58 – Mistimes his jump to a header from Cresswell's clearance and it leads to the ball going out for a Brighton corner and their eventual 2nd goal from Izquierdo
60 – Picks up the ball from Rice at the back and dribbles for about 15 seconds but no one is available for him so he passes back to Noble
68 – Kouyaté takes a bad touch and loses the ball but Mario quickly tackles the opponent to prevent any attack
71 – Crosses the ball in with his left foot from the right hand side to Antonio but he is deemed to have fouled an opponent in the box
74 – Plays a neat 1 touch flick forward in the air to Chicharito
80 – Dribbles forward from midfield but a counter is prevented as he wins a foul after a heavy tackle
81 – Cross on the left hand side into the box is easily caught
86 – Cross on the left hand side into the box but Antonio mistimes his jump to the header
90+3 – The ball gets lifted into the Brighton box but there is no communication between Antonio so they both leave the ball and it goes out for a Brighton goal kick
Verdict – 6 – An adequate performance from him today against the Seagulls. While he didn't provide the same impact as on his debut against Crystal Palace, of our players he tried to create the most roaming around in the opposition half and trying to feed balls into attack. He did so with Chicharito's goal.