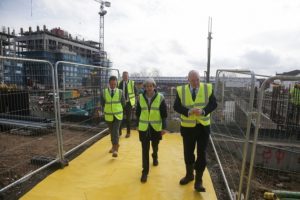 Prime minister Theresa May visited the site of the former Boleyn Ground yesterday. Mrs May had been visiting the Upton Gardens development site on Monday, the same day that she delivered a speech pledging to do all she could to tackle delays in house-building in order to get "the right homes in the right places".
May also visited St Edward's Catholic Primary School which is next door.
The Upton Park site was the first to be enrolled in Newham Council's latest housing scheme, which sees properties sold at 40, 60 or 80 per cent of market rental, depending on tenant's income. The scheme is the third set up by the council to tackle the borough's housing crisis.
Local Space, a social landlord company, was set up in 2006, and Red Door Ventures offers some homes at market rent to subsidise others at affordable rent. Residents began moving into the 842 homes last September. Of them, 211 are part of the housing scheme.