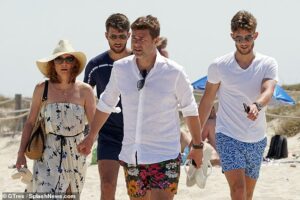 West Ham supporters are already suggesting and hoping that Spurs loss could be the Irons gain by replacing Manuel Pellegrini with Mauricio Pochettino.
From where I'm sitting  the chances look slim to almost non existent. The West Ham board appear to content in backing their manager for now and seem in no hurry to replace him but the additional question is whether West Ham would ever interest Pochettinio.
He is already being tipped as a possible replacements for Zinedine Zidane at Real Madrid when the day comes for the celebrated French coach to move aside. Real Madrid have tried to sign him on two occasions in recent years only to be denied permission to talk to him by Spurs.
Pochettino's wife Karina and his two boys Sebastiano and Maurizio are said to settled in London and might be reluctant to move should he have a chance to manager another London club.
Spurs arch rivals Arsenal would be the most obvious choice in London with Unai Emery struggling but the Hammers could be a back up choice if his family wanted to stay in London.
Never say never but it's not a bet I'd want to have!