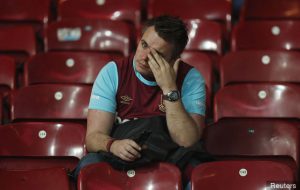 Rumours that West Ham could suffer a points deduction or even demotion from the Premier League along with newly promoted Newcastle are extremely wide of the mark. Social media went into overdrive yesterday suggesting a possible points deduction or exclusion from the Premier League for the Hammers.
The rumours were fueled by a Sun newspaper story which claimed: "West Ham and Newcastle could face points deductions if found guilty of serious tax fraud. But any punishment is likely to be years down the line given the complex nature of such investigations – and much will depend on exactly what the clubs and their past or present employees are alleged to have done."
However, whether Newcastle and/or West Ham are found guilty of any wrongdoing with regards to their tax affairs, a points deduction is extremely unlikely and would most likely require a change of rules for future offences which would need to be agreed by the twenty member clubs.
Under current Premier League regulations points deductions are reserved for those clubs entering financial administration and/or fielding ineligible players. Rule W.54 of the Premier League rule book does describe a range of punishments that can be handed down by a disciplinary commission and that includes a points deductions and even expulsion from the league but in reality, the commission has never done so and has no appetite to do so.
HMRC say they will visit all Premier League clubs with a specialist team to investigate the wide use of image rights in potential tax avoidance and they claim the misuse of image rights is widespread in the football industry. Twelve football clubs are under investigation for tax affairs claims the Taxman which has so far refused to name and shame them.