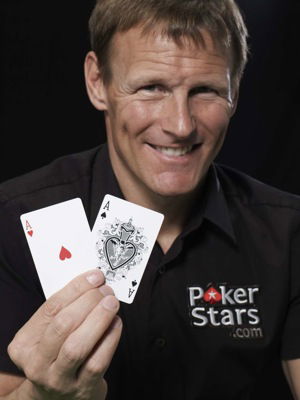 Teddy Sheringham has become very used to playing for high stakes as a 'professional' poker player!
For the England striker -who looks set to become the new West Ham United attacking coach – appears to have made the game a massive part of his lifestyle!
And it seems that just as he did as a striker for Millwall, Spurs, Manchester United and later West Ham, he has played his cards absolutely right.
The stakes at Upton Park could hardly be higher for Sam Allardyce right now as he bids to provide entertainment and a flush of goals
The former England hitman's achievements on the circuit are detailed at www.pokerpages.com where it is declared: "At the age of 42, Sheringham sought more competition with less physical stress, and he began to play more poker.
"A long-time interest became more as he did well in live poker tournaments.
"Some of his early successes came before his retirement from football, as he finished second at a side event at the 2005 Fahrenheit Festival and made the semi-finals of the Pacific Poker Open that same year.
"With more time on his hands after 2008, he began to concentrate more on his game.
"Sheringham made the final table and finished fourth at the 2009 European Poker Tour Monte Carlo charity event, then went on to finish 14th in the 2009 World Series of Poker Europe Main Event for more than £40K.
"But his greatest successes have been on the European Poker Tournament, and most recently, he made the final table of the EPT Vilamoura tournament, ultimately going out in fifth place for €93K.