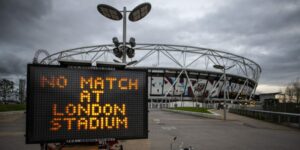 English football has been suspended until at least April 30 due to the coronavirus pandemic, it has been announced.
Premier League bosses on Thursday discussed via conference call the best way to proceed with the 2019/20 season, which was last week initially postponed until the beginning of April. Earlier this UEFA made the huge call to postpone Euro 2020 by a year, which appeared to prove that completing Europe's domestic football calendar was the priority.
And on Thursday afternoon, a joint statement from the various football governing bodies in England confirmed the decision to delay the professional game until the end of next month at the earliest.
"The FA, Premier League, EFL and women's professional game, together with the PFA and LMA, understand we are in unprecedented times and our thoughts are with everyone affected by COVID-19," read the statement. We are united in our commitment to finding ways of resuming the 2019/20 football season and ensuring all domestic and European club league and cup matches are played as soon as it is safe and possible to do so.

"We have collectively supported UEFA in postponing EURO 2020 to create space in the calendar to ensure domestic and European club league and cup matches have an increased opportunity to be played and, in doing so, maintain the integrity of each competition."
Are the Premier League right?