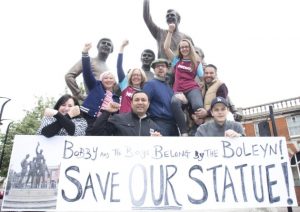 The debate on whether the Champions statue on the corner of Green Street and Barking Road should be moved to the London Stadium has raised it's head again.
They are plans to relocate the sculpture of 1966 World Cup winners Bobby Moore, Geoff Hurst, Martin Peters and Ray Wilson before the start of next season but local residents are still campaigning to keep it. 424 Newham residents signed an online petition to keep the statue with a further 800 claimed to have sign a paper version of the petition handed to Newham mayor Sir Robin Wales last year.
It's future will now come down to a Newham Council vote expected within two months.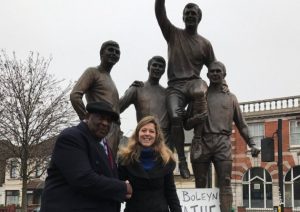 Councillor Veronica Oakeshott, who has the sculpture in her ward, said: 'There is very strong feeling around here that the statue remains.The people want a reminder of the 100 years of West Ham history that took place down the road. It's not the football club's property. It wasn't their idea to commission it and they paid for less than half of it. We're also going to try to have the statue given Listed status and that is supported by local MP Stephen Timms. Even former West Ham stars like Clyde Best don't want it moved.'
A Newham council spokesperson told ClaretandHugh: "No decision has been made on whether or not to relocate the statue. Any such decision would  have to be made at a future Cabinet meeting. Stringent conditions have been placed on the relocation of the Champions Sculpture to Queen Elizabeth Olympic Park that must be met before any move is agreed. Councillors agreed that it could only be moved once a fully funded plan was in place to improve the junction in Barking Road, where the sculpture currently stands, after it has been relocated. The conditions also included the installation of a piece of public art linking the area to West Ham United and that the road improvements and the costs of moving the sculpture should be funded by partners."
West Ham told the Daily Mail their commissioned poll shows 87 per cent of fans want the Champions statue transferred, but that survey was conducted more than three years ago so today we run a Claret and Hugh to understand fans feelings on the subject.