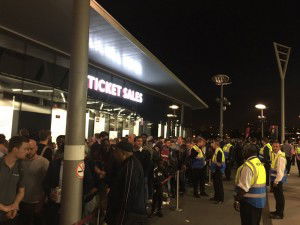 West Ham have opened season ticket renewal process for the 2018/2019 season with a deadline of 1st June by which time season ticket holders need to renew or face losing their seat. Last season around 5,000 supporters refused to renew their seats at the London Stadium and were replaced by those on the waiting list.
With 52,000 season ticket holders again everyone will have the option whether to renew or not. The waiting is now said to stand at 48,000 and the club says it is actively contacting those on the list to ensure they still are interested in a London Stadium season ticket.
Our Claret and Hugh poll today is just for season ticket holders when we ask the question whether you plan to renew or not or whether you remain undecided.
If you have problems voting use this link http://poll.fm/5xu58