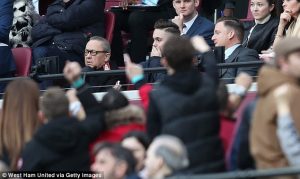 Sir Trevor Brooking says unhappy West Ham fans should stay away from the remaining five home games while Hammers skipper Mark Noble says supporters should unite behind the team in their remaining games to avoid relegation.
While further protests are planned the reality is the board can't do anything meaningful until the summer, they can't buy players until the transfer window opens and they can't make any significant changes to the London Stadium in a short amount of time. Words are cheap and it is words from the board that got us where we are today, actions speak louder than words.
The owners only have one thing in their absolute power and that is to make a personal sacrifice in staying away from the next home game themselves to take the heat out of the situation. The club says privately they want a cease-fire with disgruntled supporters until the summer but supporters have suggested the board could play their part by staying away.
We ask that question in our Claret and Hugh poll should the owners move seats, stay away or remain where they are in the directors box for the Southampton home game on 31st March?
If you have problems voting click on this link http://poll.fm/5xhbu