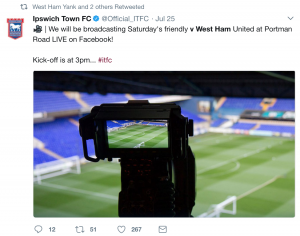 This week's streaming of Premier League games on the Amazon Prime video platform has re-opened the debate over the legal streaming of all Premier League games in the U.K.
Amazon paid £90m for 20 games per season as part of a new three-year TV rights deal but the landscape could change when that deal expires. The Premier League and its predecessor banned the screening of games at 3 pm Saturday for the fear it would affect match day ticket sales.
Those outside the U.K have been used to getting access to all games and the rise of illegal streaming means many others in the U.K have also been able to watch the majority of games live on-demand.
If clubs controlled their own TV rights in the future would it be good for clubs like West Ham or not? Would crowd capacities and ticket revenue reduce and would big clubs like Manchester United and Manchester City dominate streaming revenue on a pay per view model?
In today's Claret and Hugh poll we ask whether every game streaming would be good for West Ham?