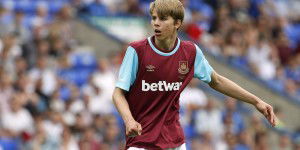 Peterborough United boss Grant McCann has given an interview in which he says West Ham loanee Martin Samuelsen seems to have lost his confidence and Posh have terminated his loan early accordingly.
Samuelsen returned to Peterborough after a short spell at Blackburn Rovers on loan at the start of this season, but his second spell has not work out as planned.
The West Ham academy youngster barely featured at Ewood Park.
"The Martin Samuelsen that was here last year was an unbelievable talent. He is an unbelievable talent. But for whatever reason his confidence got knocked when he went to Blackburn, he came here, we tried to get his confidence back a little bit and he said it himself that he is a confidence player, he needs to be playing every week. We couldn't give him as much game time as we would possibly have liked so it was only fair of me to speak to Martin and say listen, he appreciated the opportunity and enjoyed working here with me and the coaching staff. I am sure he will go back there and have a bright future. For me Martin will come (good) when he is 21 or 22, you'll start to see the best of Martin" McCann said, after confirming that Samuelsen's loan had been terminated early.