Graham Potter insists he is wary of the threat that West Ham pose from set-pieces ahead of the Irons' clash with Brighton on Wednesday.
The Hammers will look to get back to winning ways against Brighton on Wednesday after previously losing to both Wolves and Manchester City in the Premier League.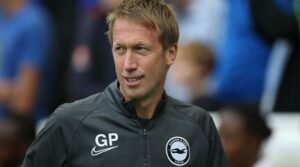 Brighton are not in great form, either, and have not won any of their last five games.
And Potter admits that his Seagulls side will have to be prepared for the threat that the Hammers hold from free-kicks and corners.
Indeed, since Moyes' reappointment, the Hammers have scored 32 goals from set-pieces and while Potter does not think that size is everything, he accepts the Irons have a major weapon up their sleeve.
Quoted by The Argus, the Brighton boss said: "We have good players who are strong in defending the box situations.
"But clearly, West Ham have big players, and they are very good at set-pieces.
"They are very good at that area and are as good as anyone in the league.
"Regardless of that, they scored against Liverpool like that, and they have big players as well, so size is not necessarily everything, but it certainly helps."
Brighton have an excellent record against the Hammers and have not lost to the Irons since their promotion to the Premier League.