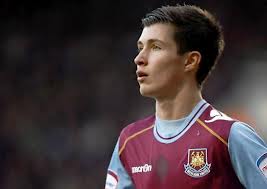 Dan Potts reckons the time has come to follow in the footsteps of Mark Noble and James Tomkins – two players from whom he takes great inspiration.
As the club continues to hunt high and low for the solution to its left back problem position, Potts believes he is the man to save them a big transfer fee.
Last season he played two first team games but made six appearances at Portsmouth where he claims he learned about the rigours of first team life.
And with Noble and Tomkins firmly established in the first team, the young Potts is planning to do everything possible to cement a third place as an academy product.
He said: "I definitely take inspiration from those players who have come through the ranks to become established in the first team. Nobes and Tonks especially proved last year how good they are.
"They've done it, they've come through the Academy and are regular Premier League players. Last year they were two of our best players and you can only be inspired by that.
"We've got an experienced bunch of players and when you're around them you pick up little things – as a young player you can only learn, get better and grow as a player."
He added: "I want to be pushing on and playing first team football this season, so hopefully I can and hopefully I will.
"When I went on loan to Portsmouth last year, I definitely reaped the benefits from playing in front of crowds, in a first team environment with older players.
"It benefited me as a player and more first team football is definitely the aim."