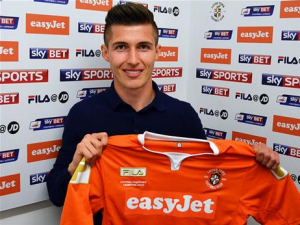 Former Hammer Danny Potts has signed a two year contract with Luton Town after being released by West Ham yesterday.
On joining the Hatters, Potts said "I'm over the moon to have signed for Luton Town. I can't wait to crack on. Promotion is the key for me, I want success".
On making the move from The Hammers Potts said "West Ham's a big Club, but so is Luton and they want to succeed so in that respect the two clubs are no different. They have great fan bases, and coming into the setup at Luton, will be good for me and hopefully we'll push on and get up the leagues"
On his latest signing, manager John Still said of Potts "He's young man, a young player who's reasonably experienced. He's played in the Premier League, he's played lower league – a left sided defender who can play left back and centre half – he'll be a good addition to our squad." Potts becomes another in a list of players signing from West Ham including Pelly Ruddock Mpanzu and Elliott Lee on loan last season.
The manager added "He's always been a player that we were interested in if it became possible, and when you look at the other players we've taken from West Ham, and other local teams, it gives us a good opportunity to look and we've been looking at Dan for some time. He knows how to defend, he's a good talker, a good organiser so although he's only 21, he's got experience".