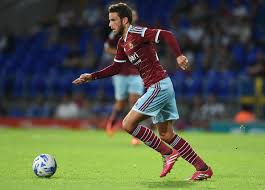 Diego Poyet admits he could hardly be happier with his West Ham life!
At just 19 and with a mere seven minutes of Premier League action under his belt, the former Charlton youngster got the call-up for the big game against Manchester United.
And that really put the icing on the cake with the teenager declaring: "I have loved my first couple of months at West Ham.
"They boys have been great. I only knew one or two of them before I came here, but it helped going away with the lads in pre-season."
And despite their being widespread speculation that he could be put on loan Poyet's open minded about the possibility.
He said: "We have a big squad, but I am patient.I am still young and I have plenty of time. I don't think there is a rush for me to go out on loan.
"If the right club came in and we had a fully-fit squad here, then maybe it would happen, but for the time being I am just happy being at West Ham."