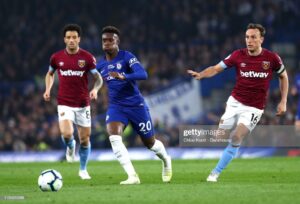 Chelsea player Callum Hudson-Odoi had a positive test result for Coronavirus returned on Thursday evening. Chelsea's official website says club personnel who had recent close contact with the player in the men's team building will now self-isolate in line with Government health guidelines. These will include initially the full men's team squad, coaching staff and a number of backroom staff.
The news comes after Arsenal's manager Mikel Arteta proved positive for the virus causing Arsenal's match against Brighton on Saturday to be postponed
Shortly after Arsenal's announcement, a Premier League statement read: "In light of Arsenal's announcement tonight confirming that their first team coach Mikel Arteta has tested positive for COVID-19, the Premier League will convene an emergency club meeting tomorrow morning regarding future fixtures."
Chelsea's game against Aston Villa will almost definitely be postponed but the likelihood is that the whole Premier League will be suspended following the emergency meeting.
West Ham's game against Wolves was supposed to go ahead on Sunday but that fixture must not be in serious doubt.