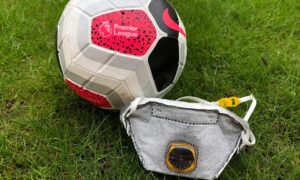 Premier League clubs are set to vote next week to start contact training despite the concerns of many players.
They will consult players and managers on Monday and Tuesday before the proposals are voted on at the next Premier League shareholders' meeting on Wednesday.
Players are expected to receive the results of their second round of tests this weekend after they were carried out at their training grounds on Thursday and Friday.
Insiders expect the second vote for stage two of full-contact training to be successful and go through without club objections.
The Premier League is finalising step two protocols this weekend which will involve contact training
Players will need to step up training next week if it is safe to do so in order to be fit for games to start again in the middle of June.
Stage two relies on the government releasing guidance for the second phase of contact training for elite sports.