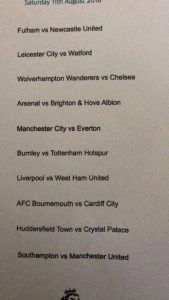 The Premier League fixture list for the 2018/2019 season will be officially published on 14th June at 9 am so less than two weeks to wait to see what order our season will pan out.
At this time of year, there is usually a fake list on social media which claims to be a leak and this year is no different.  A list claimed to show open day fixtures for Saturday 11th August shows West Ham are playing Liverpool away at Anfield.
The Premier League are yet to confirm the list as a fake, you never know, it might be a real leak one year.
However, whoever the creator of the list is they got several things right. If true, West Ham is playing away on the first day of the season for the fourth season running, playing a top-six team while none of the top six teams is playing each other.
Last year the Hammers faced Manchester United away at Old Trafford, the season before that it was Chelsea away at Stamford Bridge, the season prior it was Arsenal away at the Emirates and year before that we played Spurs at the Boleyn Ground.
A source close to the Premier League told Claret and Hugh this monring "It is fake, they always are!!"
The fixture list is a closely guarded secret with Premier League clubs themselves only finding out a few hours before the general public on the 14th June.