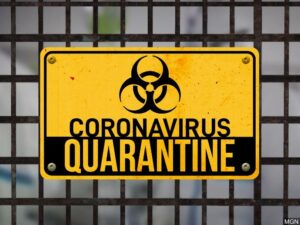 Premier League footballers could be put under a strict quarantine lockdown in hotels for a month claims John Cross in the Daily Mirror.
Cross claims it is one of the ideas being considered ahead of the next round of talks between the Premier League, EFL, Football Association and the Professional Footballers' Association with a determination to get the season completed.
The football authorities want to squeeze the remaining games into a confined time frame during June and it would be done behind-closed-doors but players would have to be kept away from the risk of infection from the virus/
Stadiums, hotels and training facilities would undergo a "deep clean" and the players would effectively be in isolation with the hope of getting the season finished by mid-July with a date of July 12 being talked about but July 16 is the current end of the TV deals.
Claret and Hugh say:
It would certainly make sense to quarantine football players from their families during the training to re-commence football but how social distancing will work in football is unclear.
Footballers will need to break the two-metre rule to train and play and it would only take one player to be become infected to lose a whole squad to an opposing team.
Training and playing would break current UK government guidelines as it stands so the rules would be changed by then for this to be an option.
It remains to seen if this is a viable option and what the PFA and footballers would have to say about it before being exiled from their families.