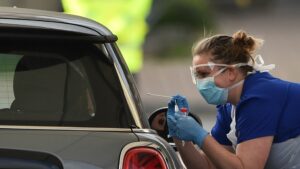 The Premier League have ordered 40,000 testing kits costing about £4million claim the Sun this morning as they get serious about testing. The tabloid claims one major club has already started sending out kits to their players' homes to test themselves.
All Premier League clubs are set to resume training by next Monday on an individual basis although some including West Ham have already opened their doors to players with restrictions in place.
The Premier League hope that full squad training will start on May 25th but football authorities are waiting for government approval to ease some lockdown measures on Sunday.
The only way that the 92 remaining Prem games can take place is to complete mass testing funded privately by Premier League clubs.
The Premier League hope to restart a seven-week period of football to finish the season on 12th June but must be finished by 2nd August to meet UEFA guidelines meaning the remaining fixtures must start before 19th June to have any chance.
Yesterday the German football league reported that ten tests had proved positive in their testing of all players and staff back in training.