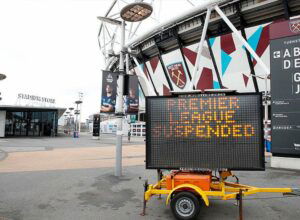 Premier League clubs will have to pay back an extra £36million in rebates to the TV broadcasters for every week the start is delayed beyond 12th June.
The payment is on top of a massive £330million the broadcasters are already due even if the remaining 92 games of the 2019-20 campaign are completed. If the season is abandoned with no more games played then the money due back to Sky Sports, BT Sports and the international broadcasters is increased to £762million.
Clubs are expected to meet again with the Premier League on Tuesday 26th May on which a restart date is hoping to be agreed.
A delay until the 19th June will cost £36m in penalties bringing the total rebate to £366m while a delay of three weeks until the end of June as Steve Bruce suggested would add another £72m bringing the total compensation to £438m.
Should the Premier League not start until the end of July then the figure bumps up to £582m and end of August £726m at which point it makes little financial difference whether the games are completed or not.
The report by Jason Burt in the Telegraph today has been confirmed by a club senior source as 100% accurate on the current financial position facing Premier League clubs.