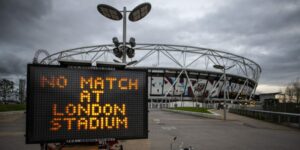 The restart of the Premier League season is expected to be pushed back by at least seven days from June 12th to June 19th after players and managers expressed their concerns on yesterday's calls with the football authorities.
During meetings on Wednesday both groups agreed to resume socially-distanced sessions next week and the 20 managers were presented with the safety protocol for a return to training before club captains, met with the Premier League in the afternoon.
The protocol covered just the 'phase one' part of the return which restricts players and coaches to small groups of five and will be approved at Monday's Premier League meeting for a resumption on Tuesday 19th May.
According to the Telegraph, The players' conference reached a broad consensus that the majority wanted to return to playing. They recognised that the risk for their age profile was very low and that football could provide a very safe environment.
The greatest concern was whether managers and their squads are being given enough preparation time ahead of the originally proposed June 12th restart. The Premier League is listening to those concerns and is prepared to push back the resumption by at least a week to 19th June.
One issue raised was the problem of foreign players returning to the UK. They argued there would be difficulties in bringing back players who had travelled abroad to be with their families while training grounds are closed and the UK is locked down. There is also they could be subject to the two-week of self quartine the Government outlined.