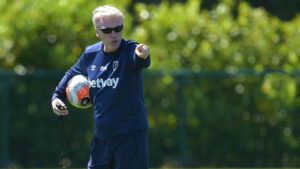 West Ham faces their game of the season this Friday knowing that a win against Watford would ensure Premier League survival. A win would give us 37 points which will be enough to survive the drop.
If West Ham don't win on Friday they will have another chance against Manchester United at Old Trafford, unfortunately they failed to beat Southampton last night and remain in 5th place on the same points as Leicester City and one point away form Chelsea in third. They will still still be eyeing third place and Champions League when they play the Hammers next week.
If West Ham fail to beat Watford and Manchester United they have one last chance against Aston Villa at the London Stadium on Sunday 26th July.
Of course it could be all over by then as  Villa will need one other win being four points behind West Ham and Bournemouth probably need two wins also to have a chance of safety.  They is a chance West Ham could lose all three games and yet still survive but lets hope it doesn't come to that.