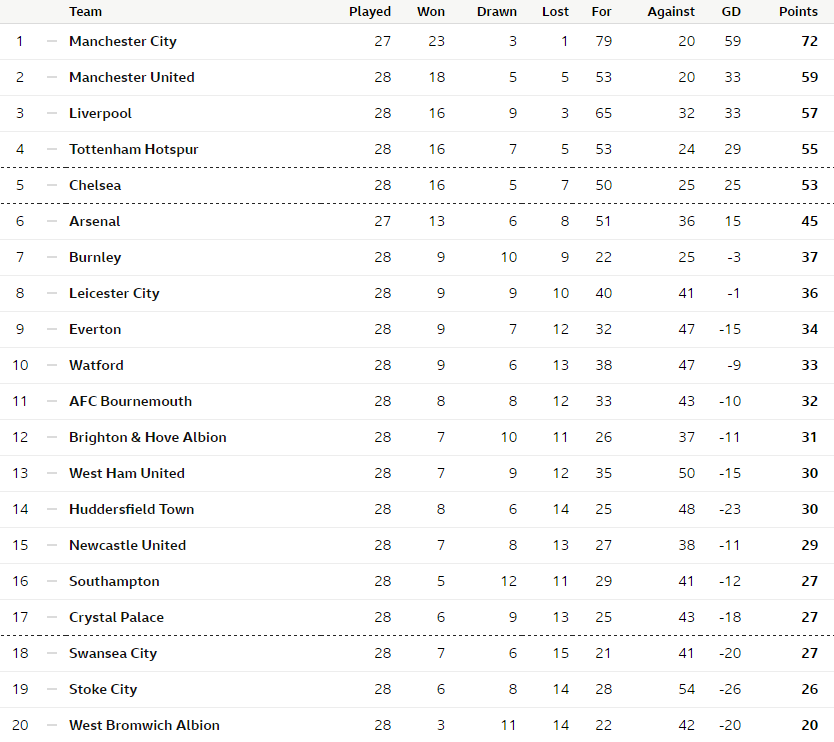 The current Premier League table shows the real divide between the haves and the have-nots when it comes to money and success in the League. The top six of Man City, Manchester United, Liverpool, Spurs, Chelsea and Arsenal all have positive goal difference between +15 and +59 while everyone else outside the top six including West Ham has a negative goal difference between -1 and -26.  West Ham has a negative goal difference of -15.  The goal difference divide alone illustrates that money really does buy you goals.
Outside the top six Burnley in seventh place has 37 points just seven points away from the relegation zone while West Ham has 30 points in 13th place. The Hammers are just three points off relegation but equally seven points off seventh place so you need to look up as well as down this season as one win can make a big difference.  The closeness this season of the second tier of the Premier League is proof that new TV money with a minimum of £100m is normalising the Premier League in terms of money and stadium revenue is now less relevance. West Ham will announce a modest increase of just £9m this Wednesday as result of moving to the London Stadium last year moving from a 35,000 seater Boleyn Ground to to the 57,000 London Stadium.
Most of the top six have announced record turnover figures under the new TV deal.  Manchester United £581m Manchester City £473m Liverpool £424m Arsenal £423m.  Spurs are yet to announce their 2017 figures but recorded a turnover of £210m in 2016 and that figure is expected rise significantly as they received over £148m for finishing second in the Premier League last year.  West Ham is poised to release their record turnover figure of around £180m on Wednesday but remains a long way off the top six club.
The reality is it is almost impossible to the top six except for a hiccup season like when Leicester did the unthinkable. It is obvious this season normal service has been resumed and those who earn and spend the most money rise the highest up the table to earn yet more money and so the circle continues.