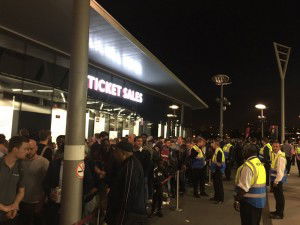 Last week we launched an online petition to call for the end of the Premium Rate ticket office telephone number which costs supporters up to 68p per minute to call from mobiles.
The petition (linked below) has already been signed by 400 supporters and many of them have left comments on the problems have have faced.
http://www.thepetitionsite.com/en-gb/809/708/558/say-no-to-0871-ticket-office-number/
William: "Calls charges are ridiculous. £33 was charged for a call which the call handler then gave me the wrong info so I had to call back."
Michael :"£45 just to upgrade my sons ticket to an adult one for the Domzale game earlier this season. Absolute rip off."
Martin: "I have had massive bills being kept waiting and then the line going dead. Over an hour waiting sometimes.."
Lesley: "On one occasion we paid £22 extra on our phone bill all attributed to West Ham. I don't think this a way to treat loyal long standing season ticket holders. Or any supporter come to that."
Danny: "Fed up being ripped off when booking tickets. "You are held in a queue at position no. 96″ at 58p per minute- I actually didn't bother going to a couple of games last season as wasn't prepared to pay a fortune on my phone bill just to get tickets"
Pete: "Last month it cost me 38 pounds to upgrade a ticket, it shouldn't be allowed."
Terry: "Cost me over £15 to be told a match was sold out last season"
Jim: "I have cancer and now on benefits, I have a pay as you go phone and have spent well over £100 trying to get through, only for my credit to run out, then have to start the call again.expense I now cannot afford."
Alan: "I had an extra £80 on my bill last season after calling for europa league tickets"
Roger: "I pay enough already for both mine and my grandsons season tickets, and I got really annoyed when i was on the phone for 35 minutes purchasing tickets for one of the europa league games – phone bill circa 35 pounds."
Anon "The last time I called the box office on this number I was mysteriously disconnected 3 times and had to make several attempts and long waiting periods before I spoke to a customer service person who handled my request impeccably. The bigger shock was my next mobile phone bill which showed that my attempts to contact the ticket office had cost me £42 which was more than the match day ticket itself. Not a very happy hammer."
Terry "£80 in charges for Mark Nobles testimonial. Daylight robbery!"
Ricky "The ticket office website is awful, West Ham have taken cup tickets off of sale 12 hours early that makes you gave to use the 0871 and I have been charged £25 last month for it. The ticket line also says the wait time and it's always massively incorrect and you're guaranteed to be on the phone for 30+ minutes"
Rob: "£20 phone bill to book Juventus tickets as it wouldn't let me log in online"
You can sign the petition below and/or add your own comments.
http://www.thepetitionsite.com/en-gb/809/708/558/say-no-to-0871-ticket-office-number/
At the recent Supporter feedback meeting Karren Brady promised she would review the Premium rate ticket office number but we understand the current options include moving to a 0844 or 0845 number which is still regarded as a premium rate number by mobile operators and not included on call packages.
West Ham use a premium rate telephone company called Telecom2 Limited which is a subsidiary of J2 World which is partially owned by David Gold and Conegate (a company operated by David Sullivan).
In 2015, financial accounts show Telecom2 paid the club over £63,00o in shared premium rate line revenue.