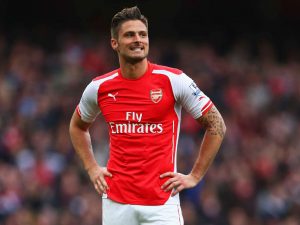 West Ham will need to lodge a club record club transfer bid to land Oliver Giroud. Initially, a price tag of £20m has been quoted in most stories about the 30-year-old Arsenal striker linking him with a move to West Ham but that valuation is set to increase under fierce competition for the front man new reports suggest.
Newcastle is said to be preparing a bid of £22m for the Gunner and French club Marseille are also prepared to pay £24.5m for his services. It also remains possible that Arsenal could part exchange the player in their £50m deal with Lyon for Lacazette.
It could mean that West Ham would have to lodge a bid of £25m or over to land their target on top of wages which could approach £130,000 per week.
West Ham are said to be counting on Giroud's desire to stay in London but they are also keeping their options open with other striker targets which they are pursuing in parallel to Giroud and Iheanacho.