By Simon Leyland
It is a crisp Saturday morning, the birds are singing, Spring is in the air and the harbingers of doom are already circling above us.
According to The Athletic, West Ham United stars Lucas Paqueta, Jarrod Bowen and Gianluca Scamacca would all have "suitors" if the club were relegated from the Premier League, according to The Athletic.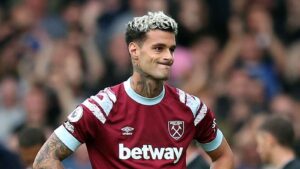 The report also claims that West Ham need the Premier League more than most (really ?… I would never have guessed) and their talented squad could be "quickly dismantled" after a drop to the Championship.
"West Ham, more than most in the lower reaches, need Premier League football. Their 60,000-capacity London Stadium home, regularly filled in the top flight, was not converted for the Championship and a talented squad would be quickly dismantled in the wake of relegation," as quoted by The Athletic yesterday.
"At least there are sales to be made to cover the inevitable operating losses. Declan Rice, the England midfielder, is expected to move on for a potential nine-figure sum with or without survival, while others, like Jarrod Bowen, Lucas Paqueta and Gianluca Scamacca would also have suitors."
Enough of this defeatist talk. Yes, we have had a spectacularly underwhelming season but it can still be salvaged, and the way West Ham have been performing in Europe, despite an uninspiring win on Wednesday evening suggests that they have more than enough fight left in the tank.
As the West Ham supporting Cicero would have said "Servare Fidem ! ( it translates as  Keep the Faith for any confused Millwall supporters reading this)