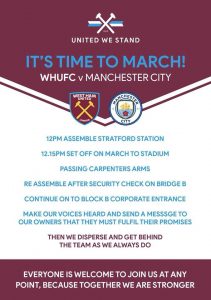 A group of West Ham Supporter facebook groups plan to march and protest tomorrow in advance of the West Ham v Manchester City game at the London Stadium.  Calling themselves the United Supporters' Protest group.
One of the online posters promoting the new march says "Supporters of West Ham are a broad church, different people of many types joined in a common love of West Ham, some choose to March to make their feelings known, others don't. Whatever we do we all support the Claret and Blue." 
The protest group are asking their supporters to assemble at 12 pm at Stratford station marching to the London Stadium past the Carpenters Arms at 12.15pm. They are requested to re-assemble after the security checks on the bridges and continue on to Block B corporate entrance which is also the entrance to the director's box. There they hope to make their voices heard and send a message to the owners.
The last time a similar protest march was arranged as many one thousand supporters took part. It remains to be seen how many fans will turn out on a wet Sunday lunchtime to make their feelings known.