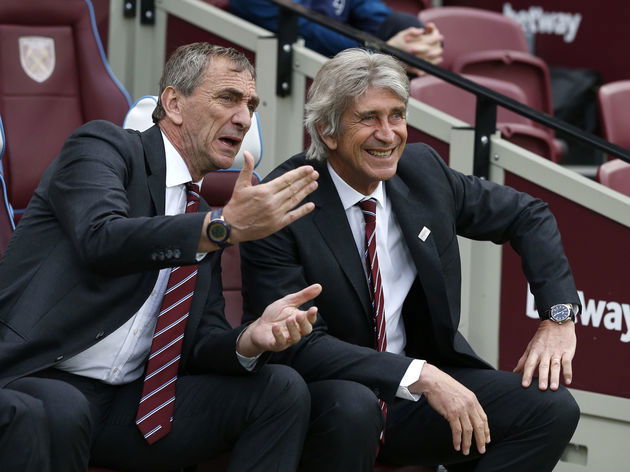 Manuel Pellegrini has every reason to head off for his  summer holidays feeling pretty happy with his first Hammers season.
And he was indeed well chuffed at the thumping victory over Watford and the final games of the season in general when he spoke to the official site after the game at Vicarage Road.
It's taken the best part of the campaign of course but at last we are all in a position where we can approach the 2019/20 season with a great deal of optimism and confidence.
The difference in the team and method of play from last season is almost unrecognisable with the team playing their little triangles of one touch football before finally showing a lethal killer edge missing for most of the season.
That's all down to the boss and his staff and with new players arriving it can only get better when we assemble for the next campaign.
Speaking to www.whufc.com he declared: "I'm very pleased because we have won the last three games – Tottenham away which was important for our fans, we finished with a win at home, and now we've done it away too, so I think it's the best way to finish.
"I think to finish the first season in the top half of the table was realistic for where the team is at the moment.
"We have six very strong teams [at the top], and Everton who the last two or three years have reinforced their squad.
"I think for the first season, to finish in the first ten positions, is not bad.
"We will now try to have a good holiday, then the aim will be to win the first game!"
And speaking of the outstanding Mark Noble he said: "Mark Noble reflects absolutely what this club is. He was playing here when he was a young boy, he has had 15 seasons in a row playing most of the games and it was very good for him to score two goals today.
"He's always talking with young players, with players who arrive here – he's not only a good player but he's also the leader and that's so important for a manager."