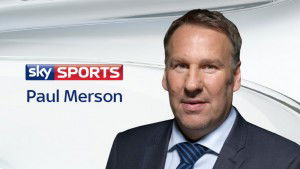 Paul Merson is one of those pundits Hammers fans just love to hate!
He often – like most of us talks some nonsense here and there – but in assessing tomorrow afternoon's game at Spurs he seems to be in line with a few of us who have seen the Hammers seriously up their game over the last couple of Premier League games.
And he has seen enough of us to understand when and how we struggle – tomorrow, he reckons will not be one of those days.
The former Gooner and Sky Sports pundit knows full well that the Spuds will  start as favourites but isn't convinced thy are going to cope too well against a resurgent and probably unchanged Hammers team which has collected six points and seven goals against two very good midlands teams in Wolves and the Foxes.
He reckons we have players that can give Spurs a really tough time and says: "It suits West Ham when they can sit back and counter attack.
What I worry about is when they play at the London Stadium against bottom half teams and they've got to go out and take the game to them. They start getting picked off.
When they can work from a base, they are a very, very good team. I think they will make it hard for Tottenham. I think they've got players who can majorly, majorly hurt you."