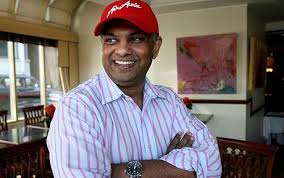 The recent published financial accounts show West Ham have made a record turnover of nearly £115m  last season with record profits of over £10m.
Our £100m plus bank debt is now funded by shareholders rather a consortium of banks who care little of what happens on a football pitch.
By contrast one-time wanabee Hammers chairman Tony Fernandes, now at the QPR helm, seems to go from bad to worst.
Last month the Loftus Road club sent the Football League their accounts for 2013-14, the period covered by new financial fair play rules.
The club could be hit with a multimillion-pound fine and whilst both QPR and the league confirmed the accounts were sent on time on 1st December neither would discuss the financial position disclosed.
The possible QPR fine is expected because in the previous season, 2012-13, they lost £65m despite earning Premier League income of £61m.
QPR paid their staff, including players, £78m in the year to 31st May 2013. If there losses were as high as the previous season they could face a fine of up to £54m. The rules should impose a fine of approximately £7m for a loss to £18m, then an extra pound for every pound above that.
In the meantime they have paid West Ham a £500,000 loan fee for Mauro Zarate together with his full £40,000 per week wages. It is also claimed they are prepared to pay £60,000 per week to land former Hammer Jermain Defoe on loan from the MLS.
And on to of all this  the recent tragic loss of the Air Asia plane, could see Tony Fernandes' personal fortune in jeopardy if the accident has a knock on effect to customer confidence.
Fernandes once tried to buy West Ham on the cheap but chairman David Sullivan branded the offer as derisory saying "He wanted 51% of the club for two bob."
Fernandes responded at the time saying: "Make up your mind Sullivan and Gold. One minute you say no offer then you say it's a joke. It was a good offer with good money and brought in good people.Gold and Sullivan can say whatever they want. I have been a lifelong fan and would have brought good money, good ideas, new people and a new belief."
We should soon know what sanctions will be imposed on QPR but I for one know which Chairmen I prefer to steer the financial and football fortunes of our club.