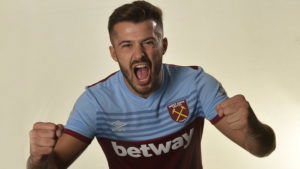 Manuel Pellegrini's hunt for a striker – probably on loan in January – will come as a blow to £8 million summer arrival Albian Ajeti.
The Swiss striker has had little or no chance to show what he's about since agreeing a deal with the club in what appeared to be a like for like Chicharito decision.
That was a surprise in itself given the Mexican had made little impression in the team pattern adopted by Manuel Pellegrini who cashed in on the 31 year old when Sevilla moved in.
Two EFL Cup appearances at Newport and Oxford United do not suggest the 22 year old was seen as a Premier League first team player and should anything happen to Seb Haller ahead of a Michail Antonio's return that becomes a worrying scenario.
The fee involved for Ajeti always suggested that unless Pellegrini knew something hidden from everybody else the player was unlikely to make an impact.
And when Mario Husillos explained after his arrival what he was indeed a box player – in the Chicharito mould – his arrival had question marks over it.
It comes as no surprise therefore to hear that the boss is still keen to bring in that second striker but will need to find a quality operator ready to play back up to Haller which may not be the easiest job in the world.