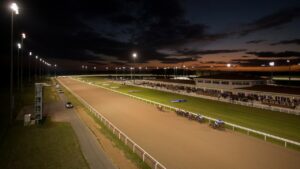 Britain's newest race track is looking to increase its profile in a big way by partnering with the London Stadium Business Club..
As a  member, the racecourse will see its branding displayed on crowd-facing LED boards as well as Stadium TV screens located within the concourses.
In addition, the venue will gain access to exclusive partner events and networking opportunities, which have previously included Q&A evenings with Sir Trevor Brooking.
The racecourse, which has hosted live music events including performances from Rick Astley and Madness, has joined the club in a bid to increase exposure among fans.
Chelmsford City Racecourse commented: "One of the interesting facts we've found from our research is that people who watch one type of sport are open to watching most other sports. As Britain's newest racecourse, we wanted to put that to the test as well as promoting brand recognition of our product.
"Given the popularity of football and the thousands of fans that watch West Ham, there is a massive audience for us to appeal to at the London Stadium.
"There is also synergy with our racecourse corporate members as many of them are supporters of West Ham – the London Stadium was an easy choice."