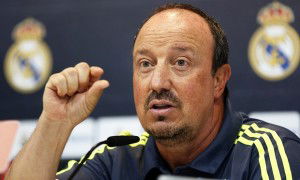 Rafa Benitez is out of work again after being fired by Real Madrid earlier this week.
Sky Spanish football expert Guillem Balague says that he believes the manager would have had a far better time at West Ham had he accepted their offer.
Benitez was approached by David Sullivan early last summer after Sam Allardyce was sacked, before they decided to appoint Slaven Bilic.
Sullivan told Sky Sports last week "We were two hours from getting Benítez and then Real came in. We had agreed a contract and everything, He is a top manager whatever anybody says and I think he'd have done a wonderful job for us. We tried [Jürgen] Klopp as well but he wouldn't come because he said he wanted a break. But I'm glad with the manager we have got."
Balague told Sky Sports: "Before he signed for Real Madrid he almost signed for West Ham, and I think he would have enjoyed West Ham much more. He wants to come to the Premier League, quite clearly. By almost accepting West Ham suggests that he will be willing to go anywhere in the top 10 of the Premier League."