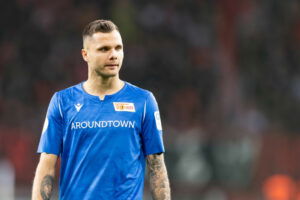 Bundesliga Union Berlin keeper Rafal Gikiewicz has said that he was wanted by West Ham, as they wanted him to solve their injury issues earlier this season but he rejected the move.
The report by Polish website SportoWefakty claimed he said he didn't want to be second-choice anywhere, and given that he knows how important Fabianski is to West Ham, he didn't feel he would have a future there.
"I could have been a colleague of Łukasz Fabiański," said Gikiewicz. "When he got injured, I got a call that if the goalkeeper who was to replace him failed the second medical tests, they would target me. But I rejected it right away. I know Łukasz's position there."
"I was supposed to be there only for a few matches, which would make my dreams come true, but I don't know what would happen next. Going to a big club to be a substitute, I'm not interested," he added.
The 32-year-old has starred in the Bundesliga this season and is out of contract this summer. However, with Darren Randolph now in place, the Hammers are unlikely to return for him,