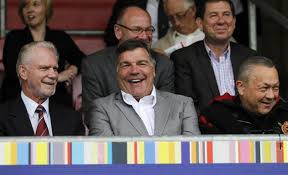 Let me quote you some stats before we go any further:
O four  wins and a draw from the last  five home games.
O one defeat in last 11, away to Everton.
O six wins and a draw from the last seven home games
A very happy Christmas to you all! The Boleyn is at peace in December – Hallelujah! Miracles happen!
Nobody could have dreamed of those stats  at the start of the season – they are figures we attach to the likes of Chelsea and Manchester City and I have to rub my eyes every time I look at them.
But beyond the stats is the realisation when watching the team that we aren't very likely to get beaten whatever the circumstances.
It's another extraordinary fact of life that a team which we gave up on this time last year when they fell behind we now see as being at their most dangerous.
If I'm totally honest I still can't quite process what's happened. Ok I understand diamonds, two up and all the rest of it but that in itself is not an explanation.
So perhaps the answer is much simpler. It's not about systems – it's about players and between  them Sam Allardyce and the board have led us to a place where Christmas turkey will never have tasted so good.
There were plenty of moans when the Davids made it clear they were taking a closer c0ntrol over incoming and outgoings players. It was widely interpreted as being the first nail in Sam's coffin or at the very least…a serious undermining of his position .
In fact it turned out to be nothing of the sort. Rather it was a top piece of decision making by a board which is finally beginning to receive the approval it thoroughly deserves.
I for one will be raising a glass to them, the manager and the players on Christmas Day. It's been great and as a regular on our Christmas TV screens will be saying again no doubt: "Can I have some more please."