Manchest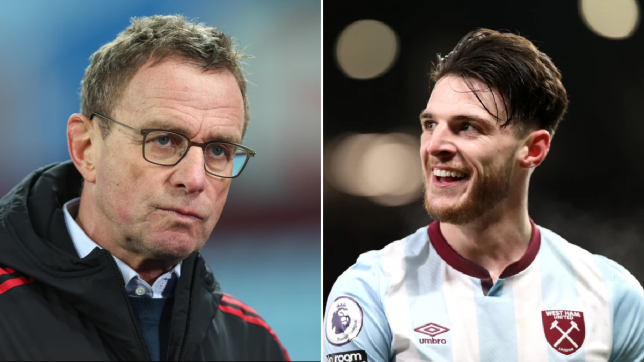 er United boss Ralf Rangnick has told Declan Rice he is wrong in his assessment of the game at Old Trafford.
He will have been pleased no doubt though with the Hammers captain's comments on how much he loves playing at Old Trafford although that won't have gone down to well with Irons fans.
Declan admitted he was "loving it" and that was the case every time he went to Old Trafford adding:  " I've always said it's one of my favourite places to play. It's an amazing stadium."
However, he quickly made it clear he reckons the boys had deserved at least a draw from a game in which they had a reasonable chance or two.
However, Rangnick was quick to dismiss those claims as he insists his side were worthy of all three points in a game which they probably edged on the balance of play.
The Manchester United boss said that if you score in the last second of the game that is the best type of win, a clean sheet.
He said: "I think in the end we deserved to win. It takes patience to play West Ham.
'A few moments at the end I wished we would have passed the ball instead of shooting from wherever.
'Bearing in mind we played a few days ago against Brentford, the team looked physically good.
'We knew it would take patience, the way we played defensively, won balls back, I was really happy with that.
'I am very pleased the three subs prepared the goal and scored the goal. All were involved. That makes it even more important.'
.