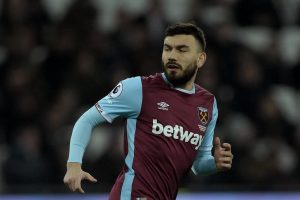 Robert Snodgrass is set to remain at the Hammers with manager Manuel Pellegrini still seeing him as a key member of the squad.
There has been speculation Snoddy may be on his way in January were an offer to be made that would tempt the club and appeal to the player.
But the decision making process is now very much in Pellegrini's hands and he remains a fan of the Scottish international despite him only being used in various cameo roles this season.
Snoddy has been unable to force his way into the squad on a regular basis this season but has a contract until Hune 2021 with an option on that which could see him remain at the club for a further two.
When Hammers put suggestions to a senior insider that he could be on his way in January we were told: "His engne is still running and he's very much a senior player who is liked.
"It would be a wrong move to write Snoddy off at this stage – he could be here for a long while."
However, there is a big question mark over Carlos Sanchez – out of contract in the summer – and were a fee to be offered it's likely that Pellegrini might cash in.