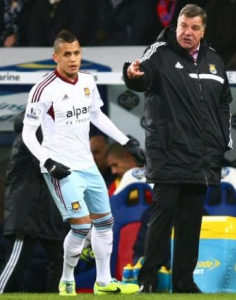 In 2014 both the Observer and the Guardian  claimed Ravel Morrison was invited to a meeting with agent Mark Curtis and that pressure had been placed on him by then manager Sam Allardyce and then captain Kevin Nolan to sign up with their shared agent.
Allardyce dismissed the reports at the time saying  "It's completely unfounded – the rumours or allegations will be made probably by Ravel's representatives but there's no truth in the fact that I have sat with Ravel Morrison and tried to press him into signing anything with any agent, never mind mine. It's his choice and his decision, not mine – unless they ask me."
Allardyce was asked if Morrison has sought his help in finding a new agent. And he replied: "If he did, I wouldn't tell you anyway but, no, he didn't. I  haven't had a discussion with Ravel signing with Mark Curtis. The world that revolves around Ravel is quite unique in terms of the publicity he gets, but there we go."
Now Ravel Morrison has posted a message on twitter  that appears to have re-opened that old wound in an obvious to Allardyce by saying:  "No-one listened to a word I said"
Mark Curtis is still understood to still represent Adrian, Andy Carroll and Reece Burke but his previous West Ham client list included James Tomkins, Jussi Jaaskelainen, Joey O'Brien, Kevin Nolan in addition to Sam Allardyce.