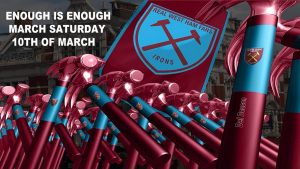 The Real West Ham Fans Action Group (RWHFAG) have claimed they are not looking for billions to be pumped into West Ham or that the Hammers get into the market for near £100 million players.
According to a piece from Sam Inkersole in the football:london they are merely looking for what has been promised which one member claimed was the point of the March 10 march.
Sam spoke with Greg Smith – a member of the group and an Irons supporter for over 50 years – who claimed:  "It might surprise some people but we actually just want what the board have promised us – a successful football club.
For us as West Ham supporters it is about playing good football, feeling comfortable where we are and enjoying ourselves in a family atmosphere.
"No fears of relegations, maybe having a good cup run, doing a Leicester one year – pipe dream maybe – that's what we want.""If we do nothing, then there won't be any change and that's our view. We believe marching is our only viable option," Smith said.
"We have met with the club and to be honest it's been interesting, making the right noises, have sympathy and want to help but for us, we are perhaps cynical by nature now considering what has happened so is this genuine?
"Rather than wait another season, we've been in Stratford a season and a half, I genuinely believe the club think they have delivered on the branding because there is a bit of claret and blue around.
"A few pictures too but it's really not enough for us. Will we get the change we want? we don't know but if we don't try then we never will."
"At the moment, every Saturday they decide to stick up some bunting to show we are a football club and then in the afternoon when the game is done and we have all gone off, they take it all down and put something else because there is a concert going on or something.
"For some, that stadium is fit for football, to some it's not. We want people broadly in line with "this will do now" whether it is the retractable seating, turning the pitch around, squaring it off, whatever.
"We want it to look more like a permanent home – I know it is hired – but even if it's the facade, literally and metaphorically our home, pictures of old players, big flags, things you expect and see at the Arsenal, even Watford away, so you have a sense of pride for the club."