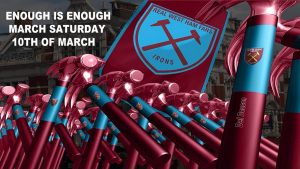 I wrote in a recent blog that I had no issues with the March 10 march which has been called off by one group of supporters and appears to be taken up by another.
I still don't but I feel the point may well and truly made anyway by the Real West Ham Fans Action Group.
One issue above all others towers above the march and the feelings of the fans about the board or otherwise and that is Isla's fight for life.
As a result of the March 10 business being put to bed by the RWHFAG, they have ensured that a little three year old who knows nothing about these things has a chance to live.
Around £40k from them and the club will now go into the fund which we hope will see her find her way to America for life-saving surgery.
It may not have been the original intention but looking at the outcome, I for one thank the group. In the end their protest was used for the good of one little girl and her family – life in all its forms and saving it wherever possible is the most important thing of all in my world.
So if there is to be a march it would be nice to think that the organisers – whoever they may be – will take some collection buckets with them and add to the fund for Isla.
As for the board, if anybody believes the point hasn't been made and they misunderstand fan power then I would have to disagree.
They have had a mighty shot fired across their bows and if they don't get it right from here on in then they will deserve nobody's support.