Not sure whether it's Harry Redknapp's 'West Ham Open Day' or not but the bloke seems to have seems very keen to make his voice heard on all things Irons at the moment!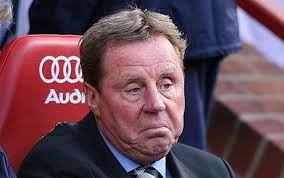 No sooner has he finished giving Ravel Morrison advice on how to conduct his future than he has decided to given Sam Allardyce his backing.
No surprise there as a member of the manager's union of course but the question is WHY is he continually on about us?
He took to the the London Evening Standard to declare: "I I don't think Sam will change his style of football.
"He produced a winning team that stayed in the Premier League for a couple of seasons, and he'll keep them up next year again.
"It's not about always playing fantastic football. It's a fallacy anyway, all this talk of West Ham being the Academy of Football.
"People need to be realistic. What you wish for is not always better than what you've got."
He argued: "It's all right telling him you need to play out from the back, play this way – we're all going to pass it, forty passes before we attack – but the next minute the ball's in the back of your net.
 "If they're going to spend £40-60million and go into the transfer market for a world class player, then I'm sure Sam will be happy to play that way, but he hasn't got that at his disposal – he works with what he's got."
Err actually Harry all that's been said is that more attacking flair is required but don't let the facts get in the way of a good rant.