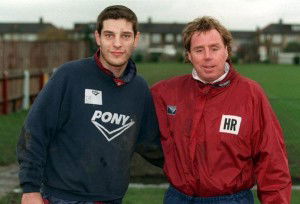 Former Hammers manager Harry Redknapp is sad that West Ham will no longer be playing at the Boleyn Ground next season but says the new stadium will take them to another level.
He says it would be fitting to way to celebrate the last season at Upton Park by winning the FA Cup this year.
"It's the last year at Upton Park and it would be great to go out on a high and celebrate by winning the FA Cup" Harry Redknapp told Talksport radio.
"They're a very good side and I like the look of them, they've been excellent. It's amazing that they're no longer going to be at the old Boleyn, all my memories of my life from when I was about 14 or 15 go back there."
"There's nowhere like it, it's a great atmosphere there. Those midweek games at Upton Park when all the fans are singing 'Bubbles', it really takes some beating."
"It's a great place and a tough place to play too, the fans could give you some stick back in the day!
"The new stadium is going to be great for them, it's going to take West Ham to another level, but I'd like to see them go out with a cup win under their belt."