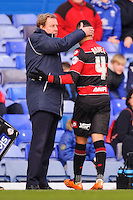 Harry Redknapp reckons its time for Ravel Morrision to join an Italian or Spanish outfit.
However, the former Hammers boss – having claimed he'd have loved to take the midfielder to Loftus Road – notably fails to explain why he didn't!
The Queens Park Rangers boss declared: "I like Ravel, he's a fantastic talent and it will be a great shame if he doesn't make it
"He went back to West Ham (in the summer) and they looked elsewhere – I would have liked to have had him back here, I liked him, I have a lot of time for him.
"He wasn't a minute's problem for me here and as a player, he has great ability.
"He glides over the field, he can score goals and he's a talent – if he was somewhere else in the world he would probably be a superstar.
"Maybe in this country it hasn't worked out for him – I'd love to see him go to Spain or Italy or somewhere."
However, having seen him sign a three month loan deal with Cardiff, Redknapp said: "He'll be a great signing at Cardiff – I'm sure the fans will love him, he's a great talent."