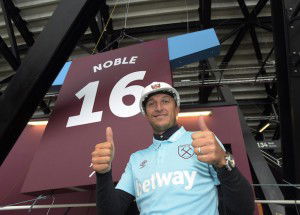 Former West Ham manager Harry Redknapp has tipped the Hammers current captain to be a great Irons manager one day.
Harry speaking on Sky One's  Resknapps Home Fixtures said "An absolute certainty Noble would make a great manager one day. I think Mark knows the game inside out. He's been brought up in the game, he knows the club, I think he'd be amazing. I think it would be good for the club."
Last week Mark Noble on the same show said he thought a role in management would involve too many pressures that a director of a football role wouldn't.
He said: "Do you know what, I have two thoughts with the management of West Ham thin"Because I've been at the club since I was 11 years of age and I love the club so much, I'd like to be in a position, whether it's the manager or sitting above the manager but underneath the owners, where I can affect real decisions at the club and the players we sign and bigger decisions."
Noble revealed he would be concerned about how precarious the managerial role is and worries his reputation at the club could be tainted after so many years of hard graft.