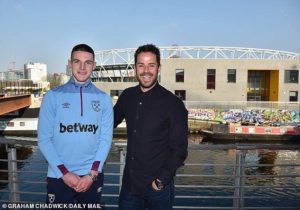 Football pundit Jamie Redknapp has predicted that no clubs will be relegated from the top-flight when a decision on the 2019/20 season is made.
"Safety has to come first as well, that is a major problem, we've seen players speaking out and they're nervous, their families are involved as well because maybe their parents have underlying problems, so you have to be extremely careful," he told Sky Sports' Football Show.
"Everyone has got their own agenda, so for that reason there will be a lot of clubs thinking 'why do we want to start again, why take that risk of getting relegated' and then losing the wages, jobs will get cut in that situation.
"I know in Ligue 1 they're relegating clubs but I can't see that happening in the Premier League, I can't see that situation because there will be so much litigation going on, it will cause so many different problems if they were to relegate the bottom three, they would go absolutely crazy and I can't see that happening."
Claret and Hugh say:
We are not in the habit of agreeing with Jamie Redknapp but we make him right on this one. The risk of relegation must be removed for football to resume.
That will come as a devasting blow to likes of West Bromwich Albion managed by Slaven Bilic and Leeds United whose CEO Angus Kinnear was the former managing director of West Ham.  The Premier League is a club of twenty members and they are likely to vote for self-preservation first rather than splitting the members.
It is the one major compromise clubs at risk of relegation will insist upon to secure votes to restart football.
With 14 votes required to past any motion  Norwich City, Aston Villa, Bournemouth, Watford, West Ham, Brighton, Southampton and Newcastle could hold the swing votes necessary for it to go one way or another.