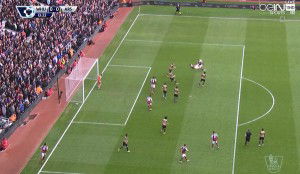 An expert panel put together by ClubTalk.com reviewed several highly-dubious decisions in the West Ham v Arsenal game last weekend. The panel agreed West Ham suffered another two crucial incorrect decisions which cost them 2 goals on Saturday.
Andy Carroll red card escape v Arsenal: The West Ham striker certainly made his mark on the match, hauling the Hammers back into the match with a deadly double on the stroke of half-time, before putting them 3-2 ahead by completing his hat-trick shortly after.
However, the Hammers forward was arguably lucky to still be on the field, having been booked for a poor lunge on Laurent Koscielny in the third minute, he then caught Gabriel with a flaying elbow in the second half. Despite ref Craig Pawson awarding the foul, three of our five-man panel felt a second booking would have been harsh. Verdict: Correct decision
Manuel Lanzini disallowed goal v Arsenal: The Argentinian thought he'd handed West Ham an early lead in the match when he converted Carroll's overhead kick from close range. However, the linesman waved Lanzini offside, though replays showed he was clearly played on by Hector Bellerin. Verdict: Incorrect decision
Nacho Monreal penalty appeal v West Ham: The Spanish full-back felt he deserved a spot-kick after a collision in the box upended him. However, there was not enough in it to warrant a penalty, with the passage of play leading directly to Mesut Ozil's opener for Arsenal. Verdict: Correct decision
Possible Mesut Ozil offside in Arsenal's opener v West Ham: The German handed Arsenal the lead when his well-taken shot beat Adrian, though the Hammers felt Ozil could have been offside. However, replays showed the playmaker was level with Angelo Ogbonna when latching onto Danny Welbeck's pass and the officials were right to let play continue. Verdict: Correct decision
Possible offside in build-up to second Carroll goal v Arsenal: The Gunners felt Michail Antonio was offside as the ball was dinked back into the box just ahead of Carroll's equaliser on the stroke of half-time. However, the West Ham wing-back, while stood in an offside position, was not interfering with play and again it was right for the goal to stand. Verdict: Correct decision
Lanzini penalty appeal v Arsenal: The Argentinian completed an unfortunate afternoon when he was denied what a possible penalty following a challenge from Bellerin in the area. Although you can understand why the referee, with what initially looked like an innocent coming together, waved play on, our panel felt (with the benefit of replays) that the Spaniard had both an arm on his shoulder and also slipped and fell onto the player's legs. Verdict: Incorrect decision
Dimitri Payet disallowed goal v Arsenal: West Ham felt they'd been denied a goal when Payet fired in after Koscielny and David Ospina had allowed the ball to escape them both under heavy pressure from Carroll. But our panel voted 3-2 in favour of the referee, who'd deemed the West Ham striker to have fouled Arsenal's French defender. Verdict: Correct decision
Gabriel red card escape v Arsenal: The defender carelessly lost possession when under pressure from that man Carroll and stuck out a leg at the end of a theatrical tumble to not just impede, but complete prevent the striker, at the least, getting a shot in on goal. Our panel however felt that the Brazilian's challenge was a yellow card at worst. Verdict: Correct decision
The updated table (below) shows West Ham now have a net total of 11 incorrect decisions against them, almost double that of Swansea who are second from bottom who have a net total of six against them. In contrast, tomorrow's opponents, Manchester United lead the table with a net total of 7 incorrect decisions in their favor showing potential favouritism to bigger clubs.